An 8 Hour Nap in 1 Hour
Yesterday I did something that has been on my "bucket list" for years. And I am so excited to share the experience with you. Read to the bottom to sign up and get a special coupon code if you want to experience what I did too!
First some background :: with my chronic pain in the soft tissue of my muscles, I have long noticed that I am pain free whenever I am in the ocean. I have not been able to be in an ocean for three years, and only then very briefly. I do simulate the experience of being in the sea on a nearly daily basis in my bath by adding salts. But my bathroom tub is not big enough to float in.
Hello floatation therapy!
Soulex Float Spa in DC offers an luxurious yet affordable experience that provides all the benefits of being in the ocean.

A friend of mine and I had been talking about going and trying this therapy for well over a year. I knew she had just navigated through a very challenging Fall 2018 on many fronts, so for the holidays I got her a gift certificate for a first time float knowing then she would finally do it. She wanted me to go with her but when we booked the appointment, I couldn't afford it so she bought my first! A bit of a Gift of the Magi moment which made the afternoon all the more special.
We were excited. And the experience was like nothing else - very profound and very moving for me.
What It's All About
The orientation for flotation therapy was straightforward and comprehensive at Soulex Float Spa. The lights are motion sensitive, so we were told we just had to move or wave around. The shower had both a hand held nozzle and a rainfall (love those!). We were shown how to safely get into the Float Spa pods (imported from Budapest, the first on the East Coast).
They really have thought of everything, including ::
wax ear plugs, in case we were worried about swimmers ear),

petroleum jelly, for rashes or cuts. You don't want to have a freshly shaved skin anywhere on your body!

a make-up remover wipe, though I hadn't bothered that day as I considered I wanted to be clean,

a spray bottle of fresh water and washcloth in the pod, in case you inadvertently get salt in your eyes,

a foam head rest, if you have neck tension or want the extra security of support for your skull, and

a comfy robe and towel.
We were offered a bath mat but the floor tile is designed not to be slippery when wet, so both my friend and I declined.

Each room is completely private. You can bring a bathing suit but there is truly no reason to. Part of the fun is floating naked!
The inner lights around the ring of the pod are set to change colors for the first five minutes. You can extend the light therapy for the full 60 hour session, or not.
As for sound - you can have silence or choose from a menu of options including rain forest, whales, dolphins, zen and such. You have up to 16 options to chose from.
You can also hook up your own music or guided meditation, which is super cool! I'm thinking next times some binaural brain waves would be very cool. Or some artists like Akira Kosemura or Balmorhea. For my first time, I picked Zen. I didn't think I wanted complete silence for the hour, at least not my first time.
Sensory deprivation is an integral part of the experience, and, trust me, you can not see your hand in front of your face. The only other time I experience such complete darkness was in the Vermont woods on a cloudy night after our family dog escaped from the car, and we had to look for him! Reading about the experience after and while preparing to write this post, I learned that the top researcher on flotation therapy in the USA actually says that the senses are enhanced because of the lack of outside sound and stimuli. (See Extra Elements of Interest below)
Benefits of Flotation Therapy
The opportunity to be free of outside stimuli is rare in our modern lives and is truly a treat.
Some of the benefits of floating from their brochure include ::
heightens mental clarity and alertness
increases creativity and problem solving

increase endorphin production

improve quality of sleep
stress and pain relief

boosts the immune system

increase magnesium absorption

speed up injury recovery
Soulex Float Spa offers some unique additional benefits. Every float is fresh water. After every use, the pod empties, and the water is sent back through three separate filters, and then stored in a tank that keeps it on a constant cycle so that the water is never sitting still or able to harbor bacteria. The water is constantly re-sanitized throughout each session. Each pod is emptied completely and wiped down between each use. Thanks to that triple filtering system, it's super clean and sanitized, and you can tell.
Another nice touch - all the products offered and on hand in the spa are organic and natural, from the detergents to the toiletries. Since that's my choice at home, that made me feel at home (a more elegant one though!).
I also just loved so many of the small touches that warmed up the rooms such as the plants, the wood on the wall, and the rope circling the pods. See the photo gallery below. I was very impressed at how thoughtfully the room was appointed!
My Adventure Floating
Now, as for my personal experience with the float - after I showered I waited for the tub to fill completely. The tub is huge so it takes about 8 minutes to fill. The hour starts when the lights for the color therapy starts indicated the water is finished flowing into the pod.
I did use the ear plugs and the head foam rest at first but I discarded both rather quickly. I was in complete dark but not complete silence, though the zen track I selected was not loud. At first I was worried that the water was too cool but it was not. They know what they are doing; when I asked I was told the water temperature is set at body temperature. In any case, I was never uncomfortable, or uncomfortably cold, and my body warmed up quickly.
I first thought how Total Recall this experience was! Then I thought a lot of my mom and being in her womb. Then I thought of the pods in Alien and banished that train of thought! I stretched and did some "float yoga," including some lateral stretches and supta baddha konasana (reclined goddess pose).
Floating felt pretty darn terrific. Meditative in a deep and unusual way. And very special - elemental, inimitable and sacred. Ineffable in many ways too, though I try.
Towards the end, I did start to feel a bit dizzy. I considered that perhaps I hadn't eaten enough for breakfast; I had my regular smoothie. I used the spray bottle to feel refreshed. I did open the pod for some air when the vertigo felt like it was approaching too much, which was super easy to do. And I got out about 5 or 10 minutes early because I had to go to the bathroom. I had drunk a lot of water to be sure I was hydrated but apparently drank too much!
I had no idea exactly how early I opened the pod completely to get out, before the hour was up, because I completely and wonderfully lost track of time!
Speaking of time - allow for extra time. We arrived about 10 minutes early for our orientation but we ended up starting a bit late. So don't expect to be out of there an hour after your set appointment. You want to relax and take your time anyway after and luxuriate in what you just did and not rush out of there.
Also Soulex Float Spa also has a room where you can sit and dry your hair and reapply make-up. Another considerate feature.
Aftermath
I bought my friend lunch after, so we could debrief each other. She enjoyed it as much as I. We both felt we needed more time to process. (Yeah, it really is that profound).
I definitely felt a little disoriented the rest of the day and rested at home after. I slept deeply and the next day slept a lot too. I felt as though my body had unfolded and was telling me what I really needed so I tried to listen and abide by that as best as I could.
I will definitely go back. There's also a beautiful room for a couples float session that I'm keen to try too!
To Learn More
If you have questions at all about flotation therapy, check out the answers on their comprehensive FAQ page.
Here's a gallery of the spa ::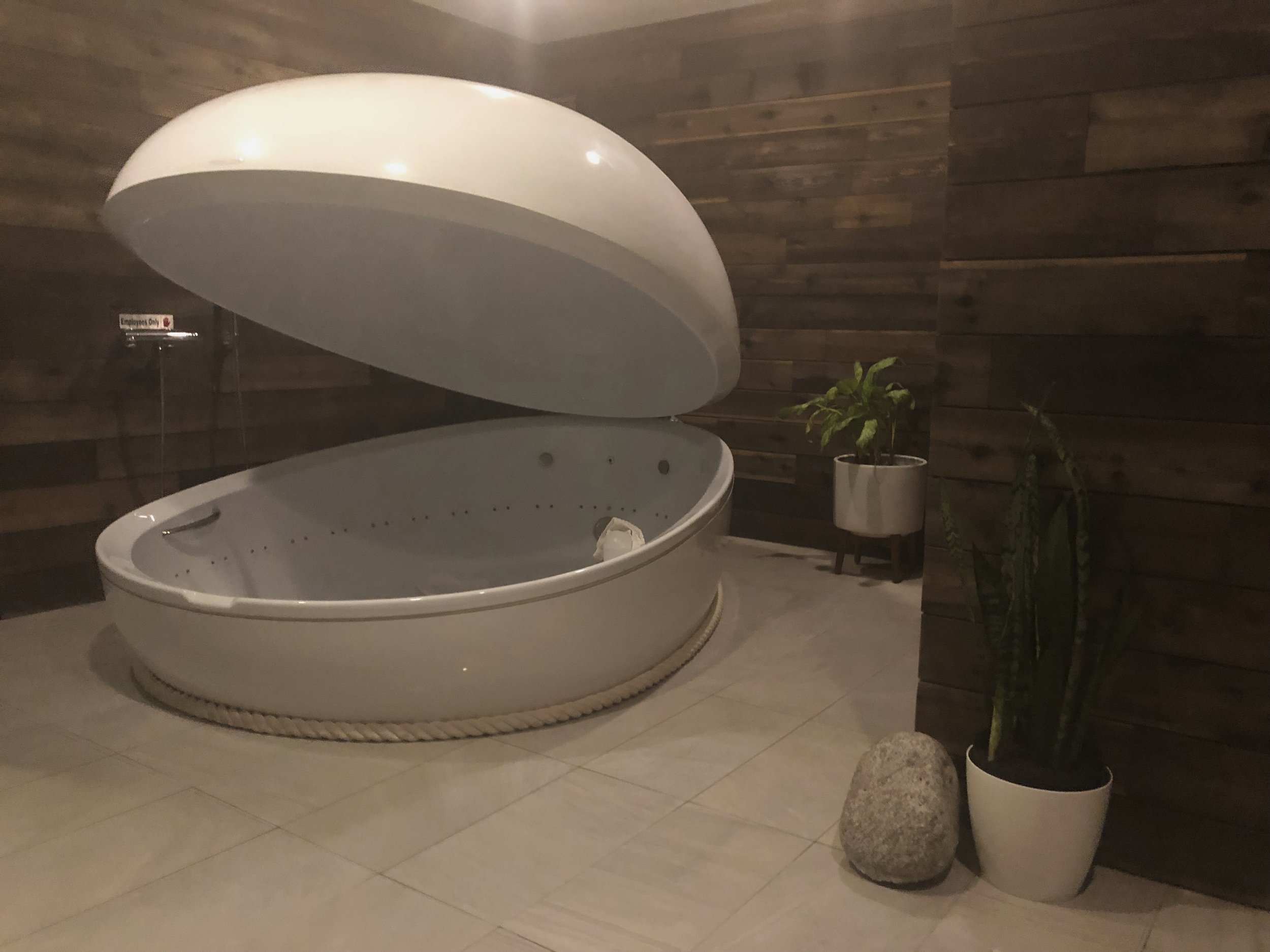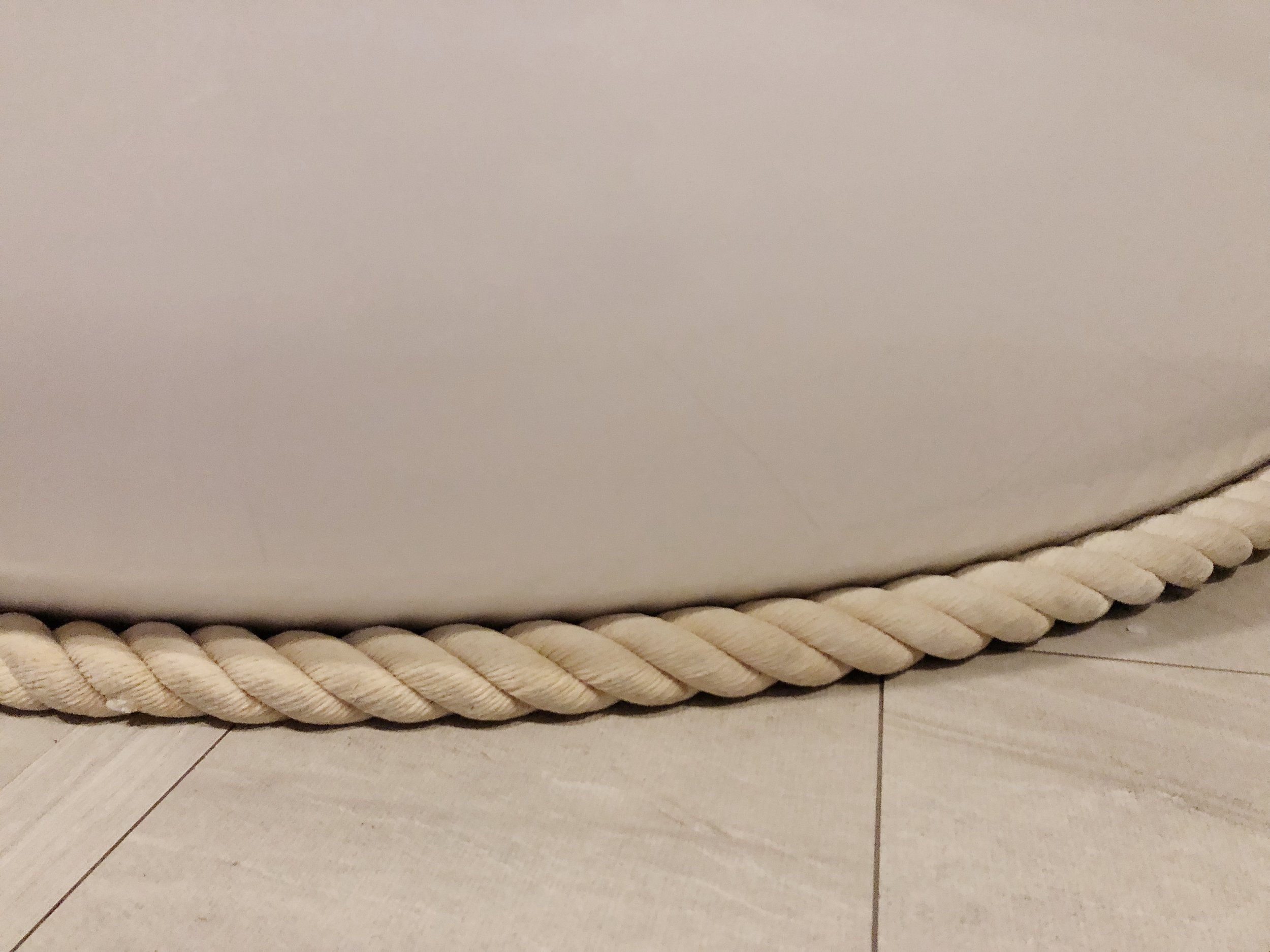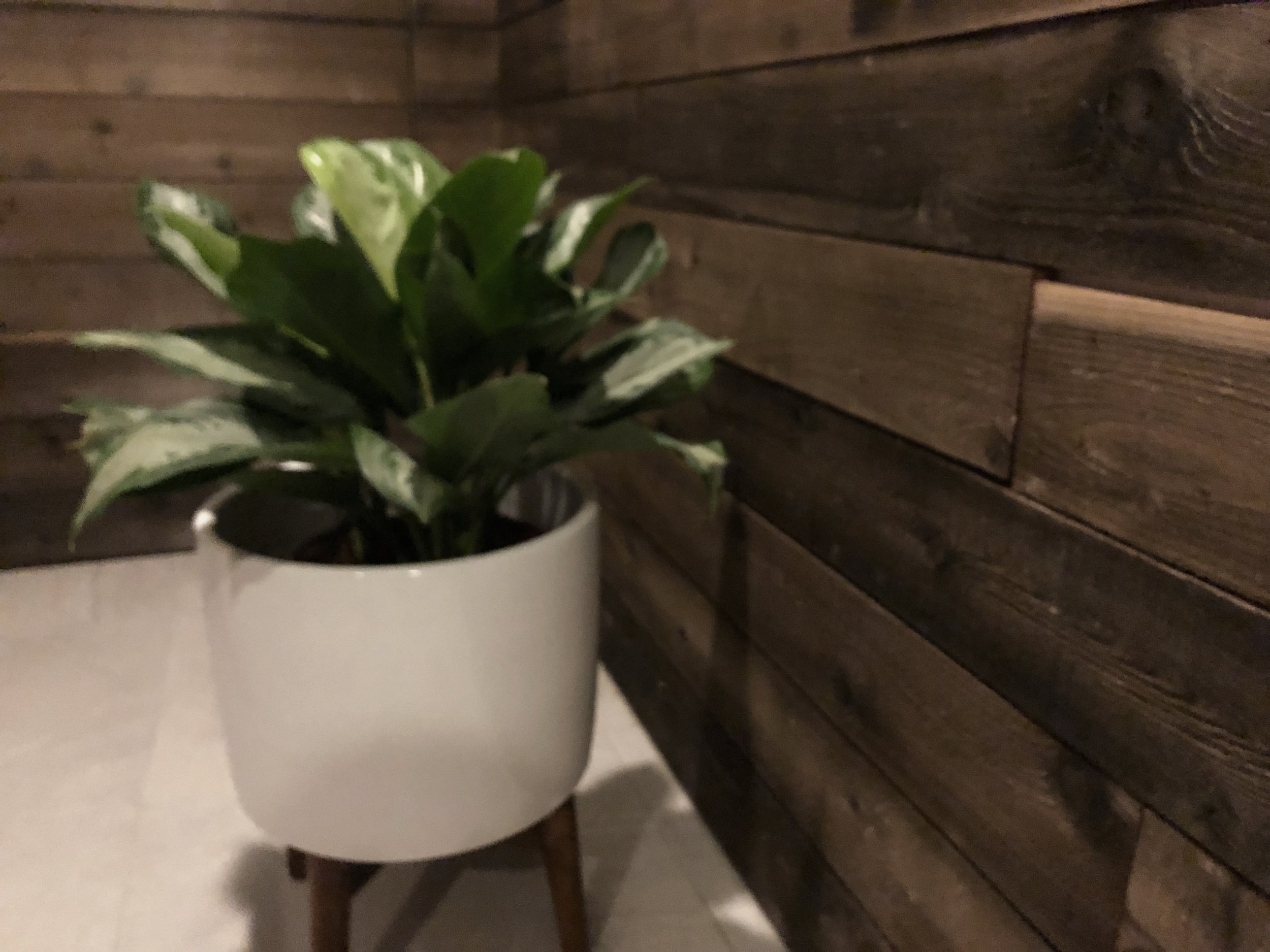 Soulex Float Spa kindly offered a special savings for my readers in the DC area so you can experience all the benefits and wonder of flotation therapy. They are conveniently located on 11th Street, NW between L and K Streets (just south of Massachusetts Avenue).

Soulex Float Spa kindly offered my readers a special coupon which will give you 15% off code that can be applied to their Introductory 3-Pack.

The Intro-3 pack consists of three 60-minute floats that need to be used within 60 days of purchase. The retail value is $229, but with the discount will come down to $194.65 or about $65/float. That's a deal as a single one is usually $145!
Sign up to get it here ::
The coupon is good until May 10, 2019, so sign up and get it! So get the coupon and float away!
Not everyone has access to flotation therapy - for geographic or financial reasons. Though helpful for pain, this treatment is not covered by health insurance like so many other effective treatments. Grrhhh!!
But you can simulate the experience to some extent at home. I will often take showers in the complete dark, which as Dr. Feinstein notes in the article linked below, enhances the senses. I will use Moroccan rose soap and an exfoliation glove and give myself a massage. Doing so helps distract me from the pain.

I also take regular baths and will write more about that and some magic mixes for your home baths in a future post. (Btw, Soulex Float Spa sells some amazing bath salt mixes too)
Stay tuned!
EXTRA ELEMENTS OF INTEREST
ONLINE ARTICLES

The Crazy Thing That Happened When I Tried Floating in a Soundproof, Lightproof Tank - Initially terrifying but ultimately profound, it was unlike anything I'd ever experienced before
Catherine DiBenedetto, April 28 2016, Health.com

Here is an excerpt ::
Clinical neuropsychologist Justin Feinstein, PhD, is trying to understand that mental piece of the float phenomenon. Feinstein is the director of the only float lab in the U.S.—the Float Clinic and Research Center. His team has been using wireless, waterproof sensors and fMRI scans to collect data on what happens in the brain while people float.
"Our preliminary analyses are showing that the stress circuits of the brain are shutting off post-float," Feinstein tells me over the phone. Once he finishes this current study, he plans to explore the therapeutic potential of floating for people who suffer from anxiety, especially PTSD. (To avoid triggering claustrophobia in subjects, the lab has a specially designed open tank in a light-proof, sound-proof room.)
"So what is it about floating that makes it so restorative?" I ask him.
"It's most likely a combination of a lot of variables," he explains. For one, you're in a near-zero gravity state, he says, which gives your body a chance to relax. "You're also reducing external sensory input to the brain—reduced light, reduced sound, reduced proprioception, or how you feel your body in space."
OTHER RESEARCH
The Effects of Flotation REST on the Symptoms of Fibromyalgia
Roderick Borrie, Tamara Russell, Stefan Schneider
Presented April 21 2012 at Float Summit Gothenburg, Sweden
Case Studies on Fibromyalgia and Burn-out Depression Using Psychotherapy in Combination with Flotation-Rest: Personality Development and Increased Well-Being
Kent Åsenlöf, Susanne Olsson, Sven Åke Bood, M.Sc., et. al
Imagination, Cognition and Personality Sage Journals March 1, 2007
The use of flotation rest in the treatment of persistent psychophysiological insomnia
Elizabeth Jean Ballard, University of British Columbia 1989
LET'S DISCUSS
Have you ever tried flotation therapy?

Would you ever try flotation therapy? Why or why not?

Do you do bath therapy at home?